Client Testimonials: Body Form Fitness is Changing Lives!
Many gyms overpromise and underdeliver but Body Form Fitness is a different type of personal training experience. If you don't believe us, read the testimonials below to find out how Body Form Fitness has changed the life of its clients. You can also view the Body Form Fitness Studio Gallery here. >
Featured Testimonial: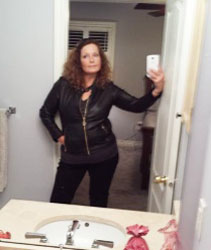 "8 months ago I barely recognized myself. I felt horrible, my body ached, everything I did required an inordinate amount of effort. I had reached a horrific "all time high" re: weight .
I was trying diet after diet…. restrictive food plans etc …not only did the weight cling to me……It would actually climb as I dieted. Then I found Joe Berrill and Body Form Fitness. My miracle began. . ."
Read more about Louise's Weight Loss Story and Other Client's Stories below (click on the testimonial to open):
Louise Wilson Tilly (Weight Loss)
Joe worked diligently to build both my strength and faith in myself. Never pushing but always supporting…encouraging. Working with Joe twice a week, following the program he designed for me has changed me in more ways than you could imagine. I feel amazing, strong, vibrant, alive!!!!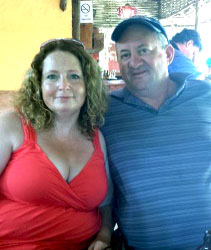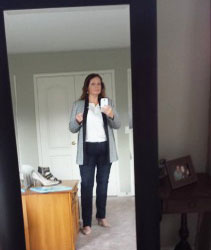 I wanted to share this in the hope that it would help or encourage someone else to start a road to recovery. I no longer feel trapped or ashamed.
I feel amazing.
Joe costs way less then the junk food I was eating. And he quite likely has saved my life.
With tremendous gratitude….
Cheers to Joe Berrill at Body Form Fitness….
And a new lease on life!
Michelle Gervais (Dislocated Hip/Diabetes)
I am a 55 year old woman who has always been active. Ten years ago, I walked 10 km every day and studied martial arts. I still worked an active outdoor job, maintained my household and could go dancing on a Saturday night. But something really strange happened. From one week to the next, I started to suffer cramping in my legs and couldn't walk two blocks because of the pain. For the next ten years, I wandered from doctor to doctor but no one could tell me what was wrong!
The longer I was subjected to enforced inactivity, the worse it became. I had to think of where to park because just walking into a building exhausted me. My daughter had to do my clothes shopping because I couldn't stand strolling through a mall or even a box store. I once tried to shop at IKEA and ended up crying like a baby from the pain before I could get out of the store. I had to lean on the grocery cart to do grocery shopping. Worst of all, I had to change careers because I could no longer stand the outdoor work of my former job! My world became smaller and smaller. Stairs were a nightmare and I had to pull myself up with the railing. My health degraded because of inactivity (diabetes). The quality of my life was really poor. The muscles of my right leg withered to the point where it was only two/thirds the size of my left leg. I could see only hanging skin and no muscle at all on my right calf. I felt inadequate and just plain old. Just doing my job at work exhausted me and I had no energy left to do anything I enjoy.
The next step for me, and it is very difficult for me to admit this, was some form of assisted walking like a walker or a wheelchair!
Finally, a chiropractor correctly diagnosed my problem. I had been trying to walk for 10 years with a dislocated hip. But even after the hip was re-adjusted, the damage to the muscles of my legs was still present and I wasn't able to keep my hip joint in place. Every week I went to the chiropractor and every week he adjusted my hip!
It was time to find a way to re-build the muscles. Frankly, I was terrified of going to a gym because I knew I would never get the personal attention and guidance I needed. I had also heard the statistics on the number of gym clients who actually get hurt at commercial gyms.
I thought about a physical therapist but to be honest, I had worked with physical therapists before and hadn't been really successful because they focused on only one part of the body. My whole body was in trouble! For these reasons, I thought I would like to try a personal trainer. But the problem was how to choose one that would be right for me.
Now I am an educated woman as I used to be a registered nurse. I started calling personal trainers out of the phone book and asking questions. What kind of education and training did they have? Had they ever worked with people who had injuries? What would their approach be for a person like me and how would they protect me from further injuries?
Honestly, I found that most so-called personal trainers have very little in the way of education and training. Most of them work with healthy people who are training out of vanity or to maintain fitness. Joe Berrill was the only trainer I contacted who could reasonably answer my questions.
I was impressed with his responses and the eight years of formal education that he has to be a personal trainer.
He was the ONLY personal trainer I spoke to who insisted that he had to assess my injuries BEFORE he could determine if he could help me! Every other personal trainer I spoke to had all the answers to my problems because of their psychic diagnostic abilities over the phone. Honestly, when someone offers you a miracle before knowing all the facts, well all I can say is "if it sounds too good to be true" Joe was the only one who wanted to conduct an assessment before he agreed to work with me.
I attended a session with Joe where he spent half an hour just watching how my body moved and listened to all of my concerns. He conducted a thorough assessment and could tell me how out of balance my muscles were and how they just weren't working together anymore. My arms were stronger then my legs. The muscles at the back of my leg were stronger than the front. The quadriceps (front of thigh) of my right leg was so withered that it just didn't engage anymore and I was actually moving my right leg with the stabilizer muscles at the sides of my thigh.
Joe was also careful to determine what my goals for myself were. We agreed that ultimately, I wanted to be able to walk the Toronto boardwalk and to go about the activities of daily living without pain and exhaustion.
After a thorough assessment of both my physical abilities and my goals, I was reassured when I learned that Joe wasn't satisfied with just focusing on my lower body. He suggested a course of training that would include one session a week on my arms and one session a week on my legs. He advised me that my whole body was weak and it would be foolish to focus on just my legs. Joe and I agreed that we would work together for six months and then if I was satisfied with my progress, we would proceed accordingly. But Joe insisted on getting my promise that I would attend our sessions consistently for those six months!
I have now been working out with Joe and David for almost a year. For my money, this is what I get:
Body Form Fitness has a fully equipped gym with some of the best machines on the market. But low cost equipment is also immediately available like balls to do core training or belts to assist in stretching a muscle before the work-out.
Every session is supervised on a one-to-one basis. The machine is adjusted to your height and abilities. Every repetition of exercise is evaluated and corrected as you work out to ensure that the right muscle is isolated and you are maximizing your efforts. You don't have to worry about injuring yourself doing endless repetitions on an improperly adjusted machine. I have never seen a client doing any exercise except under strict supervision.
Your progress is evaluated at every session and you are informed of your progress. I am never allowed to just plateau at one level of strength. As soon as I attain a specific level of strength, more exercises are added or subtly changed to increase the level of difficulty or apply resistive force to other muscles. The rotation of the exercises is frequently changed to challenge your muscles and not let them get lazy with the "same old routine".
Joe and David both have the ability to inspire you to do your very best at every session and get the most out of every workout and every repetition.
Sessions are flexible to your needs at the moment. I recently strained a leg muscle in a fall. It was never suggested that I should just skip a session. Instead, my exercises were immediately adjusted to help me heal from the strain and to avoid aggravating the injury.
Joe is in frequent contact with my chiropractor and my massage therapist to evaluate my progress and learn of any new developments in my physical health. All three of these people work together to my benefit.
Being a diabetic, Joe knows that my blood sugar may be affected by these exercise sessions. I am impressed that he and David both ensure that I am feeling well before I leave the studio and have supplies on hand to help me if my blood sugar is low. Recently, Joe called me at home at 9:00 at night to make sure I was all right. He exhibits a level of caring for the whole health of his clients and not just your exercise routine.
I have watched Joe and David work with people you might think would never attend a gym. People with strokes in a wheel chair. People in their eighties. I have seen every client treated with complete respect and encouraged to increase their fitness and strength regardless of their current abilities.
If something happens that requires a change of schedule, Joe is very accommodating to make sure that I don't miss out on a whole body exercise in any specific week.
I have to admit that I don't find my exercise regimen to be particularly difficult. I had imagined being pushed to the limits of my endurance and was kind of scared that I just wouldn't be able to do it. But from the start of my therapy at Body Form Fitness when I could only do 15 lbs on the calf press to my current state (220 lbs), I find that I am pushed to a limit but not to state of complete exhaustion. Actually, after a session, I always feel invigorated. Joe and David both ensure that the difficulty of each session is adjusted constantly to my changing needs!
Joe recently recommended adding a third session each week to include core training. I can't believe that in less than a year, my arms and legs are now strong enough that I can do the core training with some measure of coordination and endurance.
Assisted walking is now in my rear view mirror. I have 12 pounds and 5 inches from my waist, I can park wherever I like and walk a big box store to do my own shopping. I now push the grocery cart instead of using it to hold me up and can easily walk up a flight of stairs.
My body is balanced in that my legs are at least as strong as my arms, the front of my legs is stronger than the back and my back is stronger than my chest. When I walk, I now longer lumber from side to side. I can see the visibly larger muscle mass on my right leg. I now have a calf muscle instead of just hanging skin.
I am now entering my second year with Joe as my personal trainer and I look forward to even more gains in strength and endurance over the coming year. Thanks to Joe and David, my world has expanded quite a bit, my quality of life is greatly increased and my health is vastly improved. I am extremely happy with my progress and in all honesty, I can't imagine how I could have gotten more value for the money! I trust their advice completely.
I only wish my daughter lived in Toronto as I would be happy to pay for her to enroll with Body Form Fitness to help with her problems. I wish Joe and David could be cloned and open up a studio in London as well.
Jeff Somerville (Type II Diabetes/Arthritis)
Diagnosed with hypothyroidism approx. 13 years ago, my doctor and I kept a close watch out for Type 2 diabetes which usually shows up a few years later. Diabetes showed up on schedule approx. 4 years after that (9 years ago) and was controlled with diet only for the first 4 years and for the last 5 years with Metformin. Having a sedentary job, and having been a smoker for many years, my level of fitness was in a sorry state. My ability to get the benefit out of a traditional gym membership was also reduced by the need for supervised training and equipment due to range-of-motion challenges brought on by arthritis ( Ankylosing Spondylitis) in my upper back and shoulders. My ability to control my blood sugar was getting beyond what I could do with diet, medication, and light exercise alone. All the recent buzz I was reading on the internet for my diabetes talked about benefits brought on by adding strength training along with aerobic exercise for improved blood glucose control. And fortunately I met Joe through my wife Mary who was referred to Joe for managing her osteoarthritis and was strength training for her upcoming knee replacement operation. She enjoyed the private, supportive environment Body Form Fitness provided her.
I began seeing Joe approximately 2 years ago and have had a very positive transformation. Joe tailored an exercise program geared to the equipment I could use and improving my overall strength. I got the blood sugar control I was looking for and the improved posture and pain reduction related to my arthritis. I have improved range of motion and have been able to add machines to my regimen over time and I continue to look for further improvements. From a numbers perspective my quarterly A1C tests – Glycosylated (Glycated) Hemoglobin – routinely come in between 6.4 – 6.7% (Normal is 4 to 6%, Well-managed diabetes target is 7.0% or less) After the first 18 months of strength training my Synthroid (thyroid replacement hormone) dosage was reduced to 175mcg from 200mcg – the first time it was reduced since being diagnosed so many years ago! I was also taking up to 1200mg/day Naprosyn to manage the Arthritis pain which I have reduced to 375mg/day to maintain therapeutic effects for arthritis management – I don't really require it for pain management at this point.
What I hadn't considered was the effect improvements to my overall energy level and reduced pain would have on improving my mood and ability to focus. This has, along with all the physical benefits, lead to further improvements in my overall quality of life and even in my career than I could not have anticipated. My only regret is that I didn't start sooner.
Carol N. (Cancer Survivor)
To tell you about my experience with Body Form Fitness, I must first tell you my story. So please be patient.
In 2006, I was 43 years old and I found a lump in my breast that was diagnosed as breast cancer. The lump was surgically removed. Ten lymph nodes were removed from under my arm and tested to see if the cancer had spread. I was so thankful when the results came back negative. I chose to have radiation around the breast area, but chose not to have chemo therapy. I felt thankful that my experience with breast cancer was not as serious as some others had experienced. Doctors continued to monitor both breasts with mammograms and ultrasounds. In July 2009, I started to experience pain in the mid to lower part of my back. I thought that the Shiatsu massage therapist that I had been going to tweaked something in my back. I ignored the pain and it just continued to get worse until in Dec. '08 I could no longer work. In Jan. '09, my family doctor, perplexed at my worsening condition, ordered a bone scan. We were all stunned at the results. The breast cancer had travelled and was spreading through my spine and ribs! The pain was excruciating. I was immediately sent for radiation to my spine and to make a long story short, my first oncologist that treated me did not have much success. Things were getting worse. In March 2009, I had an MRI. From those results, it was determined that I had some brain metastases and the cancer was further down my spine than they had originally thought. They hadn't radiated my whole spine and neck the first time. So I had another 8 day round of radiation from my head all the way down to my tailbone. The doctors didn't give me much hope. Two of my discs had compressed 30% and they were in danger of pressing against my spinal cord. It was the worst day of my life! At the same time there was nowhere to go but up! Slowly things began to change.
My husband immediately went into superhero mode. He was on a mission, and again to make a long story short, he met with another oncologist who managed to get me into an experimental treatment program at Princess Margaret Hospital. We discovered that I was not eligible. But, I did have the good fortune of getting into a different program with a great oncologist who put me on a new low dose chemo treatment. Around the same time, we had the good fortune of meeting Dr. K Dhanani who worked from a different angle to help me reclaim my body from the cancer. Keep in mind that by this time (July 09), I had dropped to 80lbs (from 140lbs). I could not eat, could not walk and I was extremely weak. My spine was damaged from the cancer. My muscles had atrophied from lack of use. And my body could not absorb what little food I was eating. The first step Dr. Dhanani, my naturopath took, was to help my body to absorb nutrients. Meanwhile, on the chemo front, the low dose treatments started working as well. My CEA marker (A blood marker used to measure cancer cells in the blood) had dropped in the first month from 46 to 26 almost 50%! I was told that normally in the first month of treatment, the CEA level should have spiked upwards before slowly starting to come down. Finally, we had made some headway against the cancer! My recovery team, made up of my oncologist, my naturopath and my husband were slowly bringing me back to life! In the next two months I continued to make progress. First, I graduated from the wheelchair to a walker, then I started walking on my own. My appetite slowly started to increase and I crossed the 90 lb barrier! My CEA marker continued to go down.
Today thanks to the combination of treatments I am no longer in a wheel chair! By late winter I started to feel stronger. My oncologist suggested that I was strong enough to start exercising and Dr. Dhanani agreed. He introduced me to Joe Berrill of Body Form Fitness. It was very important to me that I found someone who understands the anatomy. Equally important to me is that they also understand what I am going through. Someone who will design a program that will help me to strengthen my muscles without doing more damage to my body. Joe Berrill has done this for me. In late March 2010 I started on a very simple program with Joe. We started with a few simple movements and most recently added in some exercises on weight machines. The equipment is ergonomically designed and in my limited understanding, isolates the muscles that need to be strengethed without putting stress on the joints. I have been going to Body Form Fitness once a week since. Joe works with me each time and ensures that I'm warmed up/cooled down and works with me personally so that I'm using the machines properly. He explains how each excercise will help. Since I have been working with Joe, I have gained muscle strength. I have put on more weight. My neck and back pain have been reduced greatly. My posture is straightening and I have more energy. Progress is slow but steady. Some weeks are better than others and Joe tailors each workout to suit my energy level. My body has been through a lot in the last 4 years (WOW has it been that long?) and it is important to be patient, and work slowly to have continued progress. I look forward to each week knowing that with each exercise I reclaim a small part of my life! Without a doubt my oncologist, my naturopath-Dr. Dhanani and Joe from Body Form Fitness have been a big part in helping me recover. I'm truly greatful for all they have done to help me.
To anyone who has learned that they have cancer, have faith. When the doctors says "It doesn't look good", they take away your hope and people give up. Don't let that happen to you. Your body can often heal itself with some help from a good team. But you have to believe that it can happen.
Peter Hattlmann (Injury Recovery)
This is a long overdue letter of Thanks for the personal care you and your staff have given me. As you may remember, I started coming to you via way of referral from Dr. Patricia McCord. I was involved in a head-on car accident back on February of 2006. After one and a half years of physiotherapy, where the treatment method was "Heat, cold, electronic muscle stimulation and stretching exercises". I found myself finding it harder and harder to perform daily routines as well as walking. That's when I started seeing Dr. McCord. After about nine months of treatment from Dr. McCord, she referred me to you. Dr. McCord explained that the only way for me to continue to improve was to work with you on strengthening my muscles.
Now after seeing you for about one and a half years, I am pleased to say I am a different person. Your method of structured rehabilitation is quite different from the physiotherapy I was attending before. Your one on one work and support has gone a long way to my improvement. There is no more heat or cold packs. No more electronic stimulation as there was at the physiotherapy clinic. At your rehabilitation office I work on an monitored and tailored routine. After every session you discuss my progress. My program addresses certain areas as well as improving my entire body. You go over how I performed at each piece of equipment and if there was any weight increase from my last session. When I come in and am not having a good day – your encouragement always make me try. There have been many days that I haven't felt like doing my rehabilitation routines, but then I realize how much better my body feels when I attend. This motivates me to come. Here is some of the things I have noticed about myself since I started. I have increased the amount of weights by over double on all areas we work on (upper and lower body). I can ride the recumbent bike pain free. My time and speed on the treadmill has gone from five minutes at a speed of 2.5 to twenty to thirty minutes at a speed of 6. I have more energy and find myself much happier. When I have had set backs due to illness, you have guided me back quickly to the level I achieved before my time off. Any time you notice that I have exerted myself, you make sure I call when I get home.
It's this personal involvement and caring you display that sets you apart from others or the physiotherapy center I was going to before. The results also speak for themselves. Your method is not a quick fix the way physiotherapy centers run, your structured rehabilitation is for steady and long term improvement. Even though your treatments are not covered by my insurance program, this is the best money I have spent.
Thank you for your work with me and for rebuilding me so that I can better enjoy my life as I am getter older.
Ken Nepaul (General Fitness)
I have been on a quest to get in shape for many years. I have struggled with weight issues most of my adult life and have never been able to find a balance of strength, cardiovascular conditioning and flexibility. I was able to loose the weight by crash dieting and excessive cardio training which introduced a multitude of additional problems. I was left extremely weak, suffered from various back and leg problems due to lack of flexibility, underdeveloped muscles in some areas, and overdeveloped in others. I tried the "Home Gym" thing spending endless hours trying various weight training programs without success.
I was introduced to Joe through a friend of my wife and have never looked back. I will admit I was skeptical at first because the training sessions were much shorter than I was use to doing at home, and I was convinced that I wasn't training enough. I have now come to understand that quality over quantity definitely applies to fitness training. I am in the best shape of my life at 42 after training for 9 months with Joe. He has a vast knowledge of the human body, and a network of health professionals to refer to make training safe and efficient.
I can't thank Joe enough for the fitness level he has helped me achieve, and I look forward to continued progress./learn_more]
A little over a year ago, I hurt my lower back working out in the company gym doing twists with an ab ball, an exercise that seemed harmless at the time. A week after the injury I was in excruciating pain – so much so I was walking like the Hunchback of Notre Dame. Not only did I hurt my lower back but I also irritated my sciatica nerve.
A co-worker recommended me to her chiropractor and after my initial assessment with Dr. McCord, seeing how active I was before my injury (running, yoga, weight-training, ice skating, …), she recommended that I see her personal trainer once I was able to hold the adjustments. I was in intensive chiropractic and massage therapy to help me get back on my feet. When I reached that point with her and my massage therapist, I was given the green light to see Joe at Body Form Fitness.
My first meeting with him was learning about what he did, his philosophy and how we were going to make me more stable and stronger. The only way to prevent anymore injuries to my back or any part of my body was to make me stronger – first and foremost. From the moment I met Joe, I knew I would be in excellent hands. It wasn.t until I started working out with him did I learn how unstable and weak my muscles really were. But as we continued with my training, I noticed how much stronger I became with weight training and stability (core and back) exercises.
I've been with Joe since November 2006 and it's been a step-by-step process to get to where I am but I wouldn't have it any other way. His vast knowledge of fitness, the human body, his constant encouragement and care for his clients is what makes him stand out from the rest. I'm a lot stronger and stable from where I was a year ago or at any point of my life and have reached a 'general fitness' level – when I started with Joe, I was at a 'rehab level'. I can.t imagine training with anyone else. I love the fact that Body Form Fitness is a private gym – one on one session with no distractions so that you can focus on form and really concentrate on performing each exercise beyond the best of your ability.
A combination of chiropractic care, massage therapy and training with Joe has made my lower back pain go away. Thanks for everything Joe – don't know where I'd be without you!!
Larry Sulky (Strength Training)
A lot of people think that they would like to have my problem: being underweight! But let me tell you, "underweight" does not equal "fit". At age 48, I found myself losing even more weight, and my lack of muscle and muscle-tone meant an ever-more-frequent series of nagging injuries; injuries that just would not clear up by themselves.
I was seeing my chiropractor and massage therapist entirely too often. I noticed the Body Form Fitness Studio leaflet at both their offices and they encouraged me to look into it; they both recommended Joe highly. So I dropped in at the studio unannounced one day. Joe welcomed me, showed me around, and described the kind of program that he could set up for me. I explained that I had tried working out several times on my own in the past, and invariably injured myself. He assured me that injury-avoidance was the number one priority in his approach. I signed up.
The result? After four months at Body Form Fitness, I am more fit now than I have ever been in my life. It's not easy, and it's no miracle. Joe, and occasionally Ramona, work me as hard as I can be worked, but no harder. Joe has also guided me in my diet to assure that I have the energy I need to achieve my fitness goals; not an easy thing since I'm a vegetarian.
I have gained cardio endurance, strength in the extremities, stability in the core, and yes, even muscle size and definition. And we (and I do mean "we" — Body Form Fitness and I) have done this in a quiet, private, supportive atmosphere. No competitive "gym rats", just people of all shapes and sizes becoming healthier.
Peter Belsanti (Knee)
I've always known that the men in my family have been afflicted with a variety of health issues as they've aged. Both my father and grandfather started showing a host of symptoms as they entered their forties, so I had good reason to be concerned as I aged passed 35.
I first starting feeling pain in my right knee on long, hard bike rides or after a particularly demanding game of squash. My chiropractor was helping with the problem and introduced me to Body Form Fitness in May 2004, as part of the overall regiment to address these issues.
After 3 injury-free years at Body Form Fitness, and combined with good chiropractic care, my right knee was back to full strength. I started to enjoy long bicycle rides again, without having to worry about icing my knee at the end and have even gone back to playing squash without feeling any pain.
I decided to continue the program with Body Form Fitness, into strength training and cardio conditioning. Thanks to Body Form Fitness, I'm now in the best shape of my life. I look forward to aging gracefully and enjoying all that the coming years has to offer – to the fullest.
Thank you, Joe. Without you, this wouldn't have been possible.
Mary Somerville (Arthritis)
I was diagnosed with severe osteo arthritis in my knees which made walking and even standing, difficult and painful. My rheumatologist advised me to strengthen my quads. However I was stumped as to how to go about this when I couldn't even walk. I often passed a local gym and wondered if I should join but I was reluctant to join for a couple of reasons. First, from past experience, I wasn't convinced the trainers there could do much more than show me how to use the machines. And second, due to my lack of mobility, I had gained weight and I was somewhat self-conscious. I didn't relish the thought of hobbling and limping into a gym full of young fitness buffs.
Luckily, I was referred to Joe Berrill. I found him to be extremely knowledgeable and conscientious. Before even designing a program for me, he personally contacted my rheumatologist to find out what kind of exercise would be beneficial and safe for my knee condition. The one-on-one attention he offered and quiet atmosphere of his studio appealed to me. After only four weeks with Joe, I was already seeing the effects of the personalized program he designed for me. I was able to walk and stand pain free for much longer periods of time so I knew Joe was on the right track for me. I have steadily improved since then and, although the main focus of my fitness program was to address my knee problem, Joe also incorporated much needed cardio, upper body work, and stabilization exercises into my program. Joe records and reports my progress to me and also to my doctor. Joe's demeanor is always professional, caring and encouraging. It's clear that he really knows his stuff and cares about my well being.
Louise O'Neill (General Fitness)
I have been working out at the Body Form Fitness Studio for over a year and a half, after trying unsuccessfully to get fit at various other locations. I am 5′ 1″, and my arms and legs were always too short for me to feel comfortable on the standard strength training equipment at other gyms. In fact, I was afraid of hurting myself, especially since the people who worked there didn't seem to be able to explain clearly how to use the equipment. But the special equipment at Body Form Fitness can be set to accommodate my size (and my improving fitness levels) perfectly, and I am always guided and given feedback on exactly what to do by the Body Form Fitness trainers . The customized fitness programs, convenient location and hours, reasonable price and a welcoming atmosphere have all added up to a huge difference in my ability to do physical things and enjoy life. The little aches and pains that I thought were just a normal part of getting older are gone. Body Form Fitness has worked for me like nothing else!
Aimee Cutten (Chronic Back Pain)
I have struggled with chronic back pain for years. In early 2013, I herniated two discs in my lower back and pinched my sciatic nerve. After months of painful rehabilitation, I decided that I needed to take control of my health once and for all. I was referred to Joe and his team at Body Form Fitness by my massage therapist. I knew that I would need guidance and support in what would be a long road to recovery. After meeting Joe, I realized that I was in the right place. His extensive knowledge and positive attitude are inspiring. That coupled with the fun and supportive environment they provide at the gym has made this an enjoyable process for me.
Joe, David and Eda have worked closely with me over the past year. They have encouraged me to push myself each week, gradually modifying my program as I became stronger. With every session, I have moved closer to my fitness goals. I'm so happy to say that in less than a year, I've been able to completely come off of my nerve pain medication! My energy has increased, I'm no longer in pain and I am in the best shape of my life! I've even been able to lower my dose of hypothyroid medication. Because of the dedication of everyone at Body Form, I'm at a fitness level that I never imagined would be possible for me, given my injuries. Words cannot express how grateful I am. They have given me the tools I needed to change my life. I can now look forward to the future with excitement, as I continue on this journey.
Mary-Lou Collins (Multiple Sclerosis)
A personal trainer, by definition, is someone who works one-on-one with a client to develop a customized series of exercises based on his client's strengths, limitations, and goals. He is there to encourage, to challenge, and when necessary, to modify the client's program.
As a personal trainer, Joe Berrill meets all of the above criteria, and then some.
After watching Joe and his colleagues, work for several years with my daughter, and my elderly parents, I decided it was time for me to upgrade my level of fitness using the skills of a personal trainer. That process began in September 2013. There was a significant shift when I revealed to Joe in the summer of 2014, that I had been diagnosed with a slow progressing form of MS (Multiple Sclerosis). Joe revealed to me that as he completed his training to become a personal trainer, MS was the topic of one of his last projects. He also indicated that he had worked with other clients who have MS. Joe encouraged me to think about coming in for an extra session, every other week, which would focus on exercises to strengthen my core muscles and my balance. For a person with MS, these are both critical areas.
At this stage, I function quite well in my day-to-day life, but there is no denying the impact of MS on my body. There is a noticeable change in my sense of balance; the weakness I feel in my right leg is evident in my gait – some days there is more of a limp than others. I decided to follow Joe's recommendation and began those extra sessions in September 2014.
Each time we work in the Core Room, Joe watches me very carefully. He varies the program so it is not the same old, same old, each time we meet! He is mindful of the fatigue in my right leg as I work on various exercises. We laugh together at the times my balance starts to get wonky and I am walking like a "drunken sailor" after I step off the Bosu balls! He reminds me to pause and have a drink of water between each round of exercises. When I "dazzle" him with my performance, he is quick to affirm me; when I am struggling to complete a set, he is equally quick to encourage me. I also appreciate Joe's efforts to explain the benefits of each exercise, and the rationale for the sequence of the exercises.
I do not know how this diagnosis of MS will unfold for me in the coming months and years. (It might help you to know that I recently turned 60.) But, I do know that in my attempts to be proactive in managing MS, I have the expertise of Joe, a personal trainer who demonstrates an incredible knowledge about human anatomy, and who cares deeply for each one of his clients.
From Health Professionals
Body Form Fitness also receives amazing feedback from the health professionals with whom we work. Read the testimonials below to see how we have helped not only their patients but also helped them.
Click the testimonial to open it and read each Health Professional's story.
Dr. Patricia McCord D.C., C.C.R.D.
It has been my experience that the professional services provided by Body Form Fitness Studio are of tremendous benefit to both myself personally, as well as my patients. I have been a client of Body Form Fitness since September, 2001 and have never been so physically strong. No matter how many patients I see in a day, I no longer suffer episodes of periodic overuse injuries as I had incurred in the past.
In addition, I continually depend on Body Form Fitness to assist in my patients' rehabilitation, resulting in a more complete and stable recovery from their injuries. I'm more than satisfied with the results that we are able to achieve with patients through the combination of post rehabilitative services and corrective chiropractic care.
I am very confident in the services offered by Body Form Fitness.
Dr. Anar Pardhan H.B.Sc., D.C.
I have been using the professional services of Body Form Fitness for the past four years. During that time, I have noticed a huge improvement in my overall strength and fitness level, and this has afforded me a different level of body awareness.
Body Form Fitness is capable and fully understands a variety of conditions from arthritis, pregnancy, low back biomechanical instability, injury rehabilitation to the average person who just wants to become stronger. Hence, this is an ideal choice for any individual with these conditions to utilize their services.
For this reason, I have sent a number of my patients to Body Form Fitness knowing they will be able to achieve a more complete recovery.
Dr. Erin L. Marjerrison B.Sc., D.C.
I first began training with Joe at Body Form Fitness in February of 2007. My testimonial cannot do justice to what working with him and his exceptional expertise and outstanding ergonomically sound equipment has done for me biomechanically.
When the body is healthy and strong it can negotiate the many challenges placed on it during everyday activities and the more demanding tasks of work and athletics. The attention that Joe gives to the individual training with him is far superior to anything else that I have experienced in the fitness profession. I am thrilled to have found someone with such dedication and knowledge, not to mention the outstanding equipment utilized, to refer my patients to.
Body Form Fitness is a crucial component of my patients' rehabilitation and my own strength and stability training. I highly recommend his services!
Dr. Gary LuePann B.Sc., D.C.
I have been training with Joe for over 6 months. I have seen tremendous changes in by body and have regained much of the strength and shape that I have not seen since leaving competitive sports almost 2 decades ago.
Joe's approach to training is meticulous. His knowledge and experience combined with superior equipment is the best way to improve health and fitness safely. I have a lot of confidence in Joe and I have referred many of my friends and patients to him ranging from specific challenging health conditions to general strength and fitness. They have all been very happy.
Joe remains in the top of his field through his commitment to continuous learning in health and fitness. He has a good understanding of balancing, stabilizing and conditioning the musculoskeletal system. This assists and speeds the process of correction of spinal posture and function. This is why Joe's work and mine go hand in hand to help people achieve and maintain the optimal health.
Janice McCord R.M.T.
As a massage therapist, specializing in deep tissue therapy, my job is very physically demanding. After ten years of practice, I developed areas of chronic pain that I was "learning to live with". Body Form Fitness assessed my pain to be a result of severe muscle imbalance, and designed a program to correct it. Within 6 weeks of training, the pain was gone, and, one year later, it has not returned. Not only have I noticed an increase in my strength and stamina, but, also, a significant improvement in my posture.
Because of the extensive education and focus on rehabilitative training at Body Form Fitness, I have, with complete confidence, referred clients from all levels of fitness, including those recovering from severe injuries. The results I have seen have been dramatic.
Linda Lalla R.M.T.
As a registered massage therapist, keeping my body strong and injury-free is a necessity. Six months ago, when a client told me about the great results she was achieving at Body Form Fitness, I decided to see if the customized training available there would make a difference for me. I have been training there ever since. I am much stronger, more toned and balanced and I'm now much less likely to feel the aches and pains that can come with a therapeutic massage practice.
Joe not only completely tailors programs to the individual, he reworks them regularly to ensure continued results, introducing new strategies to keep improvements coming. I have referred a number of clients to Joe to aid in their recovery from injury, to help correct muscle imbalances that cause chronic pain and to help achieve the strength and fitness necessary in their journey to overall health and well-being.
The knowledge-base Joe draws on in training clients is extremely impressive. He is constantly expanding his understanding of strengthening, recovery, fitness and total health and the new techniques available to achieve them. Most significant for me as a therapist, his dedication to each and every client is unsurpassed.
Josie Wessel C.Ht.
I had been seeing a chiropractor who had helped me enormously with various long term structural issues. She saw that the next step of my recovery required becoming strong and fit, and highly encouraged me to go see Joe. I went and met Joe, and was astounded by his level of knowledge, which he is continually expanding, and by his passion and dedication. I was also impressed by the setup of the studio and it's superior equipment. I have now been training at Body Form Fitness Studio since October 2008, and have never looked back. I love how my training programs are tailored to my specific needs and goals. I am now pain free, and have never been stronger.
As a hypnotherapist, what I focus on with my clients is self improvement. I have found that Joe's form of strength and fitness is a highly beneficial aspect of this. I have referred, and will continue to refer clients, family, and friends in full confidence and enthusiasm!
Lisa Bunn, R.N., C.I.C.
As a result of having a number of hip surgeries I was struggling with lower back and opposite hip issues. I was seeing Dr Patricia McCord fairly regularly for chiropractic adjustments and Trish suggested that further strengthening would help and referred me to Joe. I started a program with Joe in the spring of 2009 and after a few months I noticed I did not feel the need for regular chiropractor adjustments. I was beginning to feel, and still am, generally stronger and more energetic in day to day activities.
As a Registered Nurse I was surprised by Joe's knowledge of biological and disease processes. He is able to incorporate this knowledge into his practice to help with individual issues and needs.
Kelly Greer B.A.Sc. R.D.
I met Joe through my talented colleague RMT Janice McCord. As a private practice dietitian who works with women struggling with adrenal fatigue and hormonal issues I was looking for a trainer to whom I could refer my clients. I was looking for someone who not only understood the biomechanics of the body but who also understood the unique requirements of challenging health issues. I knew from our first meeting that Joe's knowledge of complex and somewhat rare medical conditions was extensive. Some of my clients require a gentle approach that will not stress their very delicate hormone balance and some require a little push to get help them remember their own power and strength. Joe's intuition combined with his unique training skill set allows him to provide unique fitness programs to suit each individuals needs. I have had the pleasure of working with Joe to help mutual clients achieve optimum health. It also should be said here that Joe genuinely cares both for the physical and emotional needs of his clients. I have the utmost confidence in Joe and look forward to working with him in the future, both personally and professionally.
Marsha Fenwick R.R.T., R.H.N.
If you want to improve your health and strengthen your body, I would strongly recommend Joe Berrill at Body Form Fitness. I have been a client for the last year and greatly benefited from his individualized program that he has created for me, I have noticed a difference in strength, tone, and energy. As a nutritionist, I strongly believe in incorporating fitness along with a personalized nutrition program to optimize one's health. I have recommended many clients to Joe to help them achieve their goals with great satisfaction.