Personal Training
Body Form Fitness is a small studio gym in Scarborough that exclusively offers one-on-one personal training in a semi-private environment.
We provide training and conditioning services based on your personal goals. The staff at Body Form Fitness Studio are dedicated to helping you achieve better health and fitness.
All personal training sessions are conducted in a one-on-one semi-private environment with no distractions to interfere with your workout. This means you are able to concentrate on your training while your trainer ensures that your breathing, form and posture are correct, minimizing the risk of injury while maximizing your results.
Before you step onto the floor to begin your training we perform a 12-point fitness assessment. This assessment ensures that you are suitable for exercise and establishes any limitations or special requirements that need to be considered.
Each exercise program is designed specifically to meet your needs and preferences. Whether you want to focus on weight / strength training, improving your core strength or functional development, your personal trainer will help you achieve your goals.
Our studio is a fully-equipped facility using state-of-the-art Nautilus 2ST equipment.
Our personal trainers are all certified with recognized governing bodies, and are fully trained in CPR/AED.
We are an AED location.
We have full shower facilities with towel service at no extra charge.
We offer free parking in our private secured lot.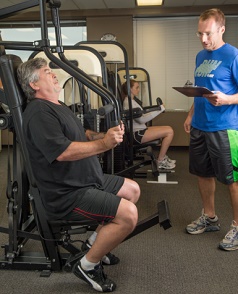 At Body Form Fitness Studio we have designed a unique fitness experience which allows people at all levels of fitness and health to begin to exercise in a way that will promote the best results and limit the risk of injury. Whether you are recovering from an injury, wanting to lose weight or just feeling the need to become healthier, exercise plays a very important part in the changes you are about to make in your life.
Please feel free to have a look through our testimonials and photo gallery; these are real people who have achieved unbelievable results with personal training.
Together, we can make it happen!